The Consequences of Erroneous or Defamatory Content.
Erroneous and negative content online causes serious financial and intangible losses for an affected company or individual. For a business, it's difficult to quantify the lost revenue from prospective clients or partners who search you online, and then decide not to do business with you. For an individual, the perception that you are unreliable or fraudulent may mean a lost career or compromised opportunity set.
Defamatory content contains false or misleading statements that damage a reputation. Erroneous content also includes incomplete or inaccurate information. Nonetheless, the potential consequences are equally severe. One prominently displayed red flag can alienate existing as well as prospective clients. This may discourage them from doing business with you or even cause them to select a competitor with a better perceived reputation. The majority of content found online is not original, which means it was copied or paraphrased from a third-party website. The consequences of not addressing false or inaccurate information about your business can adversely impact your reputation. For example, an article highlighting a legal proceeding that is now closed may be syndicated or reposted by affiliate websites automatically.
Negative content erodes trust and can compromise precious strategic partnerships that you have built over the years. Perception is reality on the internet. Ask yourself: What are the people in your network going to think when they read that you have "dissatisfied and angry customers" or that you or your company is "involved in a legal dispute"? Would they want to be associated with you any longer?
Talk to an Expert Today for your Content Removal Options.
What Places Can Undesired Content Be Removed From?
In theory, undesired content and negative links can be removed from anywhere provided that the content originator, hosting company, or webmaster in question can be identified. Under the current state of internet law, websites and hosting providers don't have to act if content is allegedly defamatory. Defamation is a precisely defined legal term and is usually evaluated in tandem with one's right to free speech. The content in question needs to contain false or defamatory information for a court to validate the claim.
There are four elements to defamatory content:
1. It contains a false statement.
2. It is published and accessible to the public.
3. Fault amounts at least to negligence on the part of the publisher.
4. It must cause damage to the reputation of the affected individual or organization.
What Is Content Removal?
There is no bulletproof way of protecting yourself and your business against detrimental content, particularly when it originates from a source that you can't control. The only option you have is to try to remove the content in question by applying one or more of the four following methods:
Negotiated removal via direct outreach.
This is the best solution for our clients to explore first. The removal usually happens in a timely manner before serious harm can happen. Negotiated removal can be achieved by monetary and non-monetary settlement. After identifying negotiated removal as a viable option and contacting the website owner or key decision maker, we have a proven track record and experience delivering results.
Court or attorney assisted removal.
We serve as subject matter expert witnesses and actively deliver continuing legal education(CLE) programs. We assess all options with our trusted network of law firm strategic partners. After receiving an official court order either identifying an infringement or defamatory declaration, search engines and internet service providers often follow agreed upon protocol and remove the content in question.

Technical removal from source.
Google provides a tool that will help you to remove content from Google's services under applicable laws, including Google Search, YouTube, Google+, and Google My Business. However, filing a complaint does not guarantee success. Blue Ocean Global Technology will also contact the website company hosting the erroneous content and request that they remove it.
Suppression in search engines.
Content suppression incorporates strategies to promote and rank more desirable content in the top positions of the search engine results pages (SERPs). The goal is not to remove the content, but rather use techniques that suppress the negative information. The vast majority of users looking for information about your business do not view information past the third or fourth page of Google.
Auto Suggestion Removals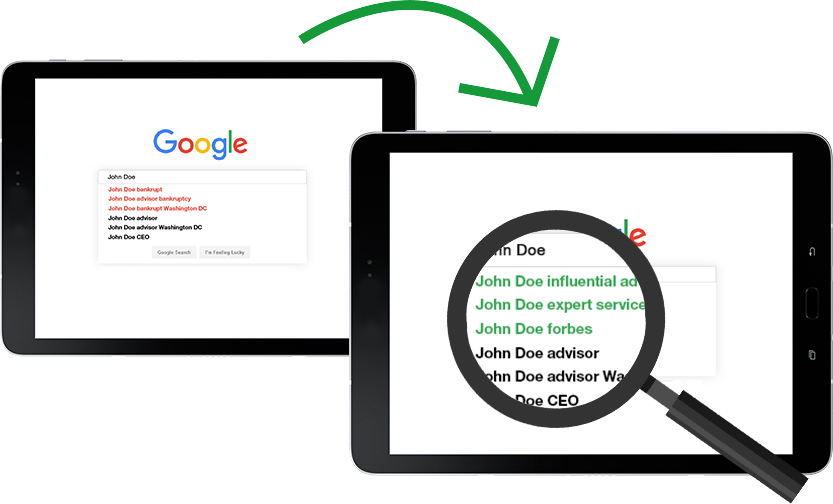 When you enter your business's name into Google search, the search engine will generate auto suggestions. These suggestions can be disastrous for an individual or company, specially when they highlight false or negative information. As such, it is critical to remove them as soon as possible. Blue Global Ocean Technology provides an auto-suggestion removal service for unwanted suggestions that adversely influence an internet user's opinion. We replace negative suggestions with positive ones that present your business in a representative light.
Explore Content Removal Options.

If you have identified defamatory content upon erroneous information. Please contact us to discuss your options.
BLUE OCEAN GLOBAL TECHNOLOGY
202.276.7589
917.720.3036
info@blueoceanglobaltech.com
70 Pine Street, Suite 1324
New York, NY 10005
Mailing Address:
4251 Lynn Circle
Doylestown, PA 18902